A Trey  Songz Story
Written By: Lex (@LexingtonAve_)
Audio clip: Adobe Flash Player (version 9 or above) is required to play this audio clip. Download the latest version here. You also need to have JavaScript enabled in your browser.
|Seven.
:the nightmare.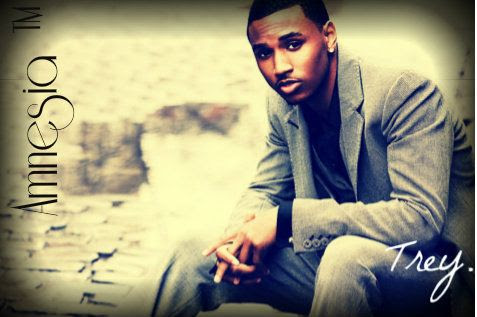 Trey.
She moaned as he kissed on her neck. His hands roamed her body and massaged it with care. He sat on the couch and pulled her on top of him. Her knees straddled his thighs, he drew her right nipple into his mouth and sucked on like it was a lollipop.
She moaned. "Mmm. Yes…"
He pushed her breast together and licked and sucked back and forth between the two. He continued to pleasure her breast as he slid two fingers in her wet pussy. Her pussy walls clamped on his fingers as she came. She licked her lips at him while staring into his eyes. He removed his fingers and shoved them into her mouth. She circled her tongue around his fingers, tasting her own juices. She smiled.
He picked her up and carried her to the grand piano that sat directly in the middle of the music room in her house. He gently sat her on the piano and spread her legs as her feet rested on the cover of the piano keys. Good thing the cover was on the keys or her toes would be the soundtrack to their lovemaking. He sat in the piano seat and pulled her body to the edge as he began to eat her pussy. She moaned loudly, and leaned back onto the piano for support.
Her pussy began to throb and before she knew it she came in his mouth. He slurped it up and stood up from the piano seat. He leaned over her body and whispered in her ear…
"Does he do it like me?"
She remained silent and it triggered his ego. He pushed her legs wide open and slammed into her wet pussy.
"Ahhh…" She screamed.
He rammed into her in and out…again and again. Her eyes began to water from the pleasure yet pain she was experiencing. She dug her nails into his back and it made him fuck her even harder. Her tear filled eyes stared at the chandelier that was right about them nailed into the ceiling.
He leaned up still fucking her senselessly and asked her, "Answer my question, Does he do it like me?"
She tried to find her breath, "…"
He placed his hands on her chest and pushed down, pinning her to the piano, "ANSWER ME LEX!"
He slammed in her pussy and she screamed, "NO…N…NO. HE DOESN'T."
A sly smile crept upon his face and he slid out of her. He flipped her over and pulled her down on the piano so that her knees were on the key cover. He stood behind her and massage her ass as it sat up in the air. He slammed back into her pussy and her head popped up in reaction.
"Ahh Shit."
He slammed into her pussy . "What's my name?"
She opened her mouth but nothing came out.
He slapped her ass and pounded into her now sore and throbbing pussy.
A lonely tear fell from her right eye and she opened her mouth but only a low murmur escaped. He reached up and grabbed her hair and slammed in her pussy again, She screamed from the pain she was feeling.
He pulled on her hair as he winded his hips against her ass, "Say my name Lex…"
The tears began to fall from her eyes as she opened her mouth, "…An.."
"I Can't hear you. Say it louder." He gripped her hips as he began to reach his peak.
She screamed as a cry for help, "ANTHONY!"
"Ahhhhh." I screamed as I opened my eyelids.
I looked around my room and my eyes landed on the digital clock that read 3:16am. I sighed as I ran my hand over my face.
…"Ahhh…" She screamed.
My eyes darted to the bedroom door. I better be hearing things. I ran downstairs to the music room and busted the door open but no one was there…she wasn't there. In fact she was all the way in Philadelphia right now. I closed the music room door and sighed as I made my way to the kitchen. These dreams are getting the best of me. This was the first time in the dream where I saw his face kissing on her usually it's a blur. She even said his name…Anthony.
I pour myself a shot of Hennessy and threw it back. The liquor burned my throat as I tried to recall the name Anthony… OH SHIT. Her ex or something like that. I remember…I clinched my teeth as I thought of where I remembered the name from. I haven't heard his name in about 3 years…but I didn't like the fact that he was fucking the shit out of Lex in my nightmare. I can't do this… I ran upstairs and grabbed my phone that sat on the nightstand that was next to our bed. I punched Cici's number in the phone and waited for her to answer.
"Hello?" She asked sounding groggy.
"Cici book me a flight."
Cici sighed, "What? Trey it's almost 3:30 in the morning. Go to bed."
I yelled. "I'M NOT FUCKING PLAYING CICI. BOOK ME A FLIGHT TO PHILADELPHIA NOW."
"Trey. You have a press meeting tomorrow."
"i don't give a fuck…CANCEL THAT SHIT." I was not furious. I didn't pay Cici to be my assistant for her to be questioning my actions. All I needed her to do was to book this fucking flight.
Cici spoke obviously being upset as well, "TREY! what do you have to go to Philly for?"
"To be with Lex."
"Are you serious? Are you trying to get caught up? IF ANYBODY FINDS OUT BOTH YOU, SANAI AND LEX WENT TO PHILLY.. IT'S A WRAP FOR TRYING TO KEEP THEM A SECRET."
I sighed, "Ughhh Fine . Whatever Cilicia."
I hung up the phone and sighed again. There was no way I was going to get any sleep tonight. I sat on our bed with my back against the headboard, this wasn't the first time I had a dream like this. Most of the time… I can't see his face but I always see hers. I usually don't heard talking either…this time was different. I tried to suppress the fact that I've been having these visions but I don't think I can do this alone. I need help… SERIOUS help.